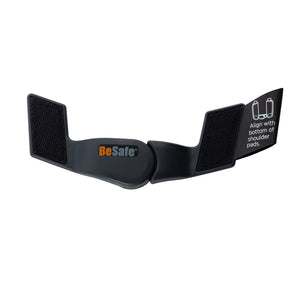 BESAFE BELT GUARD - ANTI ESCAPE CLIP
---
Speedy nationwide delivery
to your door within 1-7 days
Free professional online or in-store assistance
by qualified staff
Quick returns
within 10 days
---
BESAFE BELT GUARD
The BeSafe Belt Guard holds the shoulder belts of Besafe toddler seats safely together, preventing little Houdini's from wriggling their way out of the belts of their child car seat. 
Can easily be opened with one action
Can stay permanently on the seat, making buckling up quick and easy
The BeSafe Belt Guard is, of course, crash-tested at a renowned test institute and complies with the strict requirements of UN R129. By being installed permanently onto the shoulder pads, the Belt Guard makes buckling the child up easy and uncomplicated and can be used with all BeSafe toddler seats. IT DOES NOT FIT ON OTHER BRANDS!
The patented design of this solution allows for closing and opening the Belt Guard in just one action, thereby enabling taking the child out of the seat quickly in any situation.
Through this, the BeSafe Belt Guard offers parents a functional and proven solution for making sure that their little escape artist stays safely in the child car seat's harness at any time.
Technical information:
Approved within UN R129
Does not have to be adjusted in height as the child grows
Easy to open and close when the belts are loose
Compatible with BeSafe toddler seats only
Crash-tested
---